HomeScopes & Optics 8 Best Rifle Scopes Under $1000SCOPES & OPTICS
8 Best Rifle Scopes Under $1000
Loyal BreznySep 12, 20190
Within the past decade, the modern rifle scope sight has developed in both function and quality to a level never even dreamed of before. Today, a good scope in the budget price range can be better than a high-end scope made ten years ago.
The scope today carries outstanding optics, base housing materials, and engineering that nothing could match years ago.
The following are some examples of the best long-range scopes that meet special needs and are considered higher end when it comes to quality and pricing. Need a professional glass sight? These are good products to consider.
PRODUCT
DETAILSBEST FOR HUNTING
​Vortex Optics Viper HS-T

Magnification: 6-24×50
Reticle: MOA
Tube Diameter:3​​​​0 mm
Weight: 22.6 oz

​Vortex Optics Viper HS LR

Magnification: 6-24×50
Reticle: MOA
Tube Diameter:30mm
Weight: 22.4 oz
​Leupold VX-3i LRP 6.5-20X50

Magnification: 6.5-20X50
Reticle: MOA
Tube Diameter: 30mm
Weight: 21.7 oz

CHECK CURRENT PRICEOUR TOP PICK
​Leupold VX-R 4-12X50

Magnification: 4-12X50
Reticle: FireDot Duplex
Tube Diameter: 30mm
Weight: 16.5 OZ
​Nightforce SHV

Magnification: 4-14×50
Reticle: MOAR
Tube Diameter: 30mm
Weight: 2.8 pounds
CHECK CURRENT PRICEBEST FOR LONG RANGE SHOOTING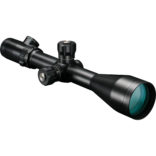 ​Bushnell Elite Tactical

Magnification: 6-24×50
Reticle: Mil Dot
Tube Diameter: 30mm
Weight: 27 oz
​Nikon Black 1000

Magnification:6x24x50
Reticle: x-MRAD
Tube Diameter: 30mm
Weight: 24.5 oz

​Burris Optics XTR II Rifle Scope 5-25X50

Magnification: 5-25X50
Reticle: G2B Mil-Dot FFP
Tube Diameter: 34mm
Weight: 32.10 OZ
Best Rifle Scopes Under 1000
1. Vortex Optics Viper HS-T2. Vortex Optics Viper HS LR3. Leupold VX-3i LRP 4. Leupold VX-R 5. NightForce SHV 6. Bushnell Elite Tactical7. Nikon Black 10008. Burris Optics XTR II
Vortex Optics is definitely a name to follow for quality scope sights for rifles.
Young to the riflescope and other optical unit scenes, Vortex has pressed forward on the fast track to quality. I run this glass on my one-mile, super long-range rifle systems and also use it as a long-range spotting scope.
Vortex scope on Rock River 300 Blackout. The results say it all!
The communications installer at our medical clinic asked to borrow my Vortex spotting scope in order to locate a direct sightline placement for radio communication from one service station to the main radio room across town.
The Vortex did the deed at over four miles. One quick look and line of sight was confirmed for sending those signals.
1. Vortex Optics Viper HS-T
The Vortex Optics Viper HS-T is a versatile scope because it is useful as a tactical scope as well as a balanced hunting scope. In fact, the dual-purpose scope provides mutual benefits for both jobs. The hunter gains from the tactical side and the tactical side gains from the hunter's needs.
This scope in the T-6 24X50 makes use of the Vortex VMR reticle (MOA). The subtensions are ideal for tactical applications and hunting. Accurate distance judgment is most important when it comes to longer range target applications.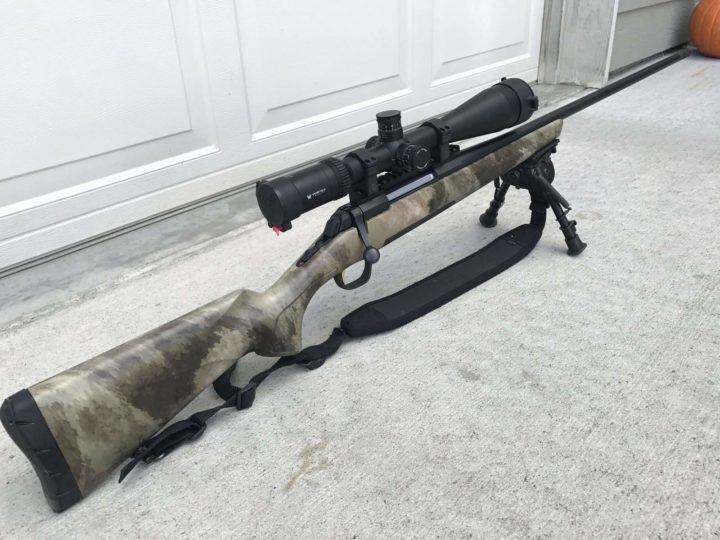 Barrel length on this scope is 15.5 inches. The lenses have a premium XR lens coating for positive light gathering and control technology.
This scope features exposed target-style turret adjustments. The turret retains CRS systems positive zero stop technology and allows the sharpshooter or hunter to be aware at all times if the scope is at correct zero elevation or windage.
The side focus system of this scope is at the left hand of the shooter. This is fast and accurate when getting a sharp image at long range or when lighting conditions are starting to fall apart downrange.
Loyal Brezny and J. J. Rich with Federal Cartridge during testing of 338 Lapua
This is ammunition used for three days of long-range shooting. Scopes under test by Ballistics Research & Development get tested hard. Fails don't count here!
A fast-focus eyepiece is valuable when making the best of a clear target image at a long distance.
The one-piece scope tube is strong and uses special sealing O rings to make the scope waterproof and fog proof. The shockproof scope is workable for hunting situations where the hunter is going to press his or her rifle cartridge to some long range applications. This scope retains subtensions in MRADS (military).
You can obtain MOA and VMR applications when ordering. The scope is a second focal plane system. This means the crosshairs will not change in size with magnification changes.
Available at Amazon

The price of Vortex Optics Viper HS-T varies, so check the latest price at Amazon.
Check Latest Price
2. Vortex Optics Viper HS LR
The second Vortex listed in this review is on the higher end of the scale but retains a different system from a straight-on hunting scope.
This second focal plane scope is adaptable for hunting rough country such as long-range mountain shooting or for taking on a nasty bad guy from a rooftop hideout (sniper).
This 6-24X50 scope will take on 50 mm ball adaptions like TACO (Second Zero systems) and pulls light well even during late in the day targeting situations.
When shooting long, your bullet drop (elevation adjustment) and windage (crosswind drift) always enter into the equation in terms of where that bullet is going to land down there at 400 or more yards. This scope takes that into account.
This scope is ideal for advanced hunters wanting to locate that big elk, mule deer or whitetail in the high country or a small police department sniper upgrading his basic termination weapon.
The XLR reticle is hash marked in MOA graduations and can be aligned with a dope card pre-built in real-time shooting on a rifle range. The scope allows the use of the internal subtension graduations, as well as turning the turret adjustments when adding elevation for longer range shooting.
While it is not indicated by the manufacturer, but judging by the turret barrel size, the scope should be clearly workable to 1000 yards. Using both subtension and external turret adjustments (halving) are required for adequate elevation.
The XD glass on the advanced optical system makes this scope clear to the edge and will not return rainbow patterns across the glass or at the edges of the sight picture. This ultra-hard glass will not scratch under normal field conditions.
This scope's advanced design makes it one of the best scopes to be illustrated in this product review.
Available at Amazon

The price of Vortex Optics Viper HS LR varies, so check the latest price at Amazon.
Check Latest Price
3. Leupold VX-3i LRP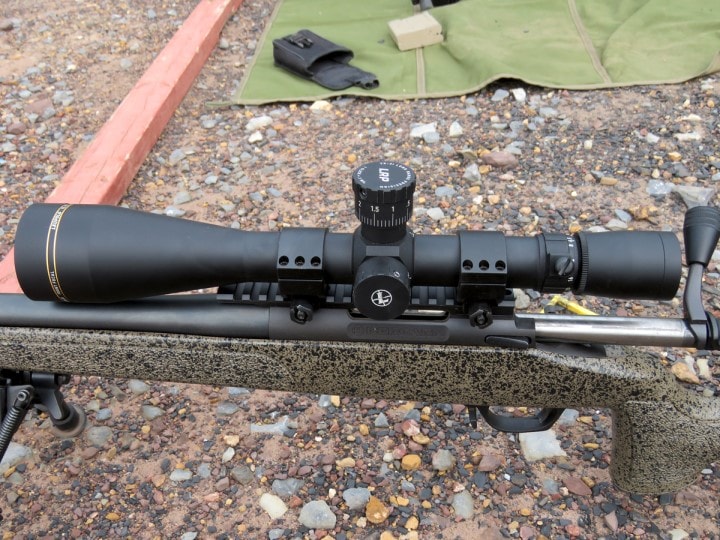 This Leupold VX-3i is the scope I used to drop my trophy whitetail at my longest range. The shot was 540 yards. The deer was moving.
The scope was using preset dope cards made for an easy shot with open turrets on the scope dialed to the exact distance at which my partner was ranging the animal.
This scope with the LRP (long-range) variant features a side focus adjustment on the left side of the turret. The reticle is a multi-dot MOA setup which means you can run minutes of angle using this sight's sub-tensions for corrections in elevation based on DOPE data generated from a computer.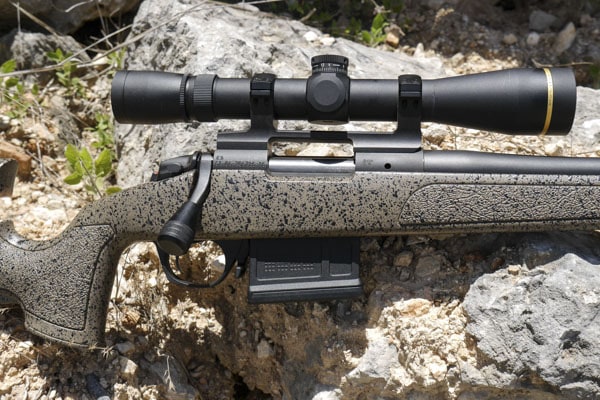 This scope is set in the first focal plane (FFP) so the crosshairs increase in size along with the magnification. This is a long-range, military-style system. This system is popular with shooters addressing those kinds of targets at range.
The turret settings are exposed and retain the zero stop setting so the shooter can return to the correct zero if making a change in windage or elevation.
The scope maintains low light management as a part of its lens system. This tough built scope is great for sharpshooters or mountain goat hunters. This scope makes use of a single rear-mounted throw lever to increase shooting speed when changing magnification levels.
Because this scope is a bit heavy, retains a 30mm main tube, and uses very high-quality glass, it can be identified as a far better grade unit than those at a lower price point. Again, as I say often, you're going to get what you pay.
Available at Amazon

The price of Leupold VX-3i LRP varies, so check the latest price at Amazon.
Check Latest Price
4. Leupold VX-R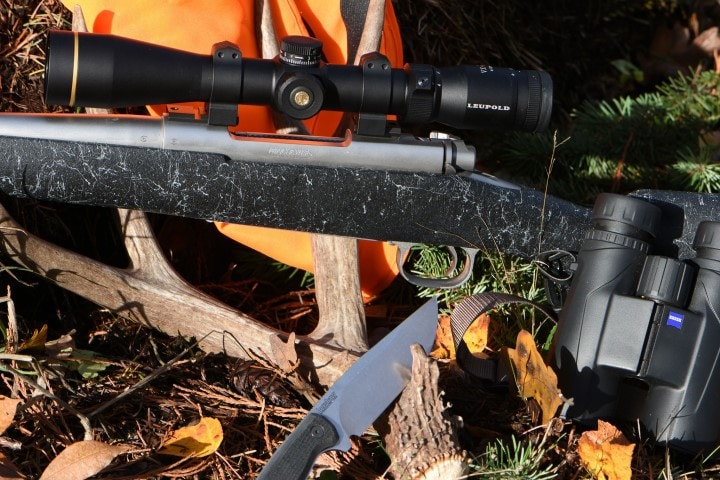 The Leupold VX-R in the 4-12X50 is a big game hunter's scope because it has all the high-end features of other better grade Leupold scopes. It also uses closed caps in the center turret.
This scope is designed to preset elevation and windage. Then, leave them alone and make adjustments in windage and elevation using the sub-tension as part of the reticle system.
The reticle is a "Fire Dot" Leupold system that is a duplex sight making it fast in the brush as well as longer-range work. One scope to do it all best describes this style of big game glass sight.
This scope like all Leupolds is waterproof and fog proof. Sealed O rings and high-end components make this possible. The unit can be turned across the board regardless of field conditions.
I have some Leupolds as old as 45 years. They are still in service (Gold Ring systems). Some are newer and perform well on long ranges out here in the American West.
Because the reticle on this rifle uses a sharp red pin dot (Fire Dot), the battery in this scope deactivates when the scope is not moved within five minutes. This system works great in low light hunting conditions. Any deer hunter will tell you some of the best game movement is during morning and evening low light.
The dot system employed on this scope gives the hunter an average of 10 extra minutes of hunting on both sides of the day. That could be your magic 20 minute time slot at some point in time.
The scope's main tube is built from 6061-T6 aircraft grade aluminum and gives a lifetime performance for the shooter. The 30 mm main tube is also carrying extra design components on the main turret.
These extra features result in long life and accurate adjustments that stay corrected for a very long time. In one case I have never re-zeroed one Leupold Gold Ring and it has been sending the mail for over 65 years to date.
Available at Amazon

The price of Leupold VX-R varies, so check the latest price at Amazon.
Check Latest Price
5. NightForce SHV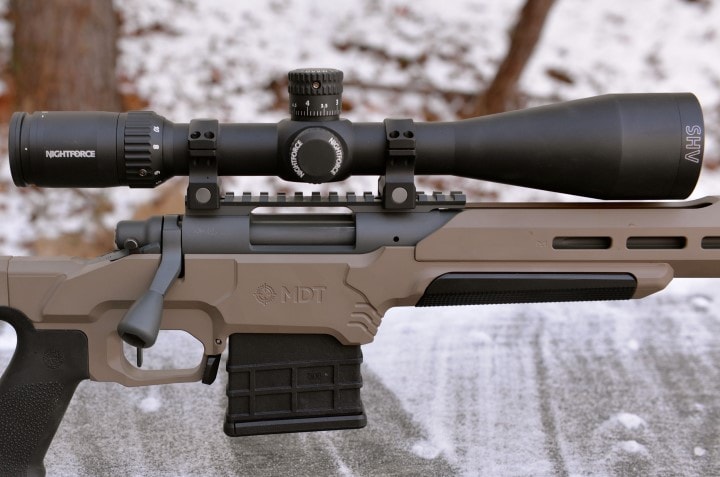 This NightForce is well built and features very high-quality glass. The scope is made in Japan for NightForce Optics. The turret housing is capped and retains a full 250 MOA elevation limit.
In general, the capped style turret scopes are best left to hunters that work with sub-tension adjustments for elevation or windage changes. After zeroing the scope, the caps are installed and left alone when the scope is taken into the field.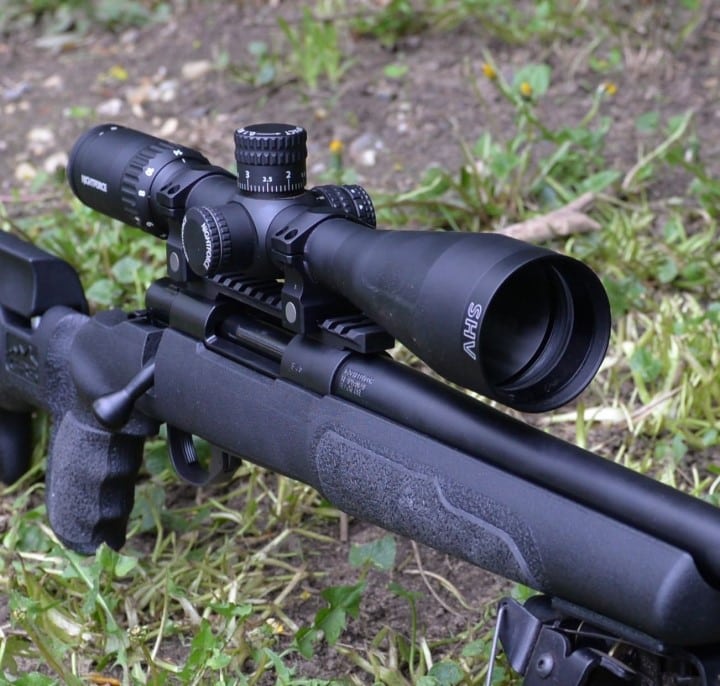 NightForce scopes I have had reviewed in sniper rifle evaluations in the past all used open turret adjustments. Everything I will review here has that option among the many variables listed from the manufactures.
This scope's magnification is 4-14 with a 56 objective lens. The field of view at 100 yards is 24.9 feet using 4X magnification.
These scopes are machined from a solid block of high-grade aircraft-grade aluminum. All of them retain a high level of elevation and windage adjustments.
Available at Amazon

The price of NightForce SHV varies, so check the latest price at Amazon.
Check Latest Price
6. Bushnell Elite Tactical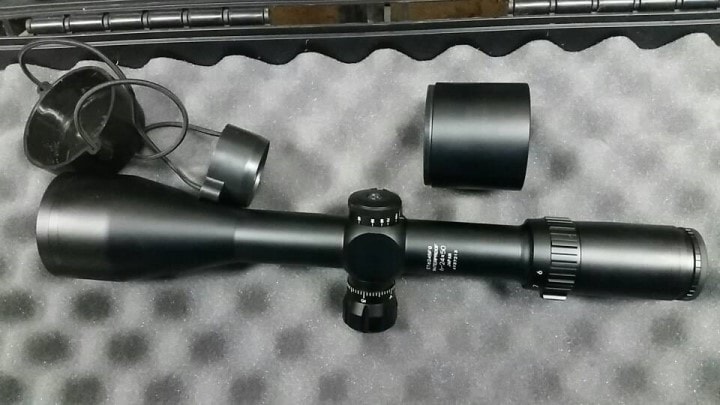 The Bushnell Elite Tactical is one of a series of Bushnell advanced design scopes that are currently in production. This company is advancing on the new age of long-range shooting. I broke my one-mile shot with a Bushnell Elite three years ago shooting the Montana 1999 338 Lapua Magnum.
This scope uses the Bushnell process of wideband coating and has multi-coated optics for the best possible light transmission and control. The scope also uses "Rain Guard" a technology exclusive to Bushnell for the total protection of the scope against wet weather conditions or fog.
The scope includes fully adjustable target turrets for sharpshooting target conditions. The 6-24X magnification is located on a 50 mm objective lens face. The subtensions are printed in the first focal plane and use hash marks in a MOA mil-dot display.
The scope has side focus controls. The turrets are built on a large 30 mm tube housing.
After shooting this scope for testing long-range rifles for the industry, then writing the complete reviews, I consider the Bushnell series of professional-grade glass a great deal of bang for the buck.
Available at Amazon

The price of Bushnell Elite Tactical varies, so check the latest price at Amazon.
Check Latest Price
7. Nikon Black 1000
Nikon 1000 Black mounted on Ruger 300 Win Mag Hawkeye during field trials with the new rifle.
This scope with the 6-24X50 MRAD variant is my go-to scope out here in the wild western USA. This is a very solid buy in a long-range scope at a price tag that blows others out of the water or should I say off the shooting bench.
This scope was conceived by engineers at Nikon to offer the shooter good glass and quality construction. They wanted the average working guy to have a chance at playing the long-range shooting game or hunting big country for large game. The result of all this has been the development of the 1000 Black by Nikon.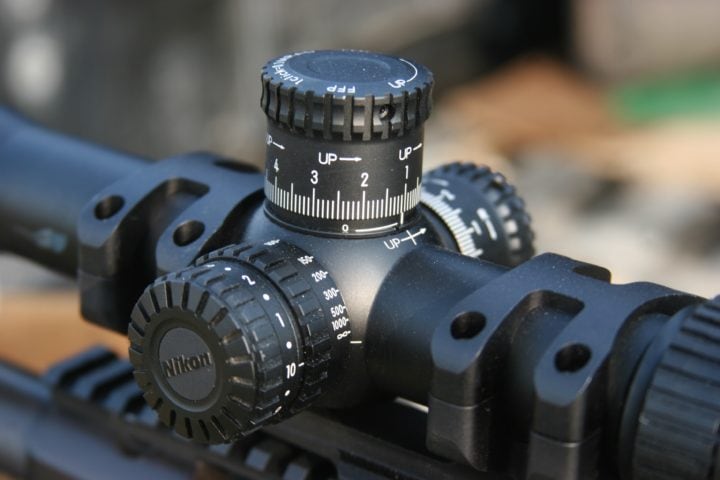 Nikon Black turrets. Note the large turret size that allows ample elevation and windage adjustment levels
This scope makes use of the glass etch MRAD or MOA tactical-style reticle. Subtensions here are not set in place with separate crosshairs but are built directly into the lens surface. I have been shooting this scope on the super long range Hornady developed 300 PRC for the past summer.
I have found that the scope handles the recoil and stress of the big magnum just fine The 300 Black also was a primary glass sighting system when I developed data on one mile target shooting work with the 300 win Mag and new specialized Hornady ELD bullets over the past year.
After shooting countless rounds of reference ammunition being both factory and hand loaded, I found that the 1000 Black held up just fine. I have turned the turret settings on this scope more times then a well diggers auger. The register stills comes up repeatable and dead on the money downrange.
Available at Amazon

The price of Nikon Black 1000 varies, so check the latest price at Amazon.
Check Latest Price
8. Burris Optics XTR II
Burris mounted on a Savage 10 Prairie Hunter .224 Valkyrie during zero work at the test range.
This week in the South Dakota Black Hills, I sighted mountain marmot at long range with this scope. The task was to test the new Savage 110 Prairie Hunter and brand new .224 Valkyrie. The scope had to be good because of the cartridge's demand. I was not disappointed with the performance of the Burris XTR glass sight.
Like other scopes I have tested, this scope has undergone several factory long range rifle scope reviews. The end result is positive to the last degree. This scope uses outstanding high-grade glass manufactured in either Europe or Japan.
Both produce upper-end glass scopes worldwide. being the upper end of scope glass production worldwide. The result is clear, images every time.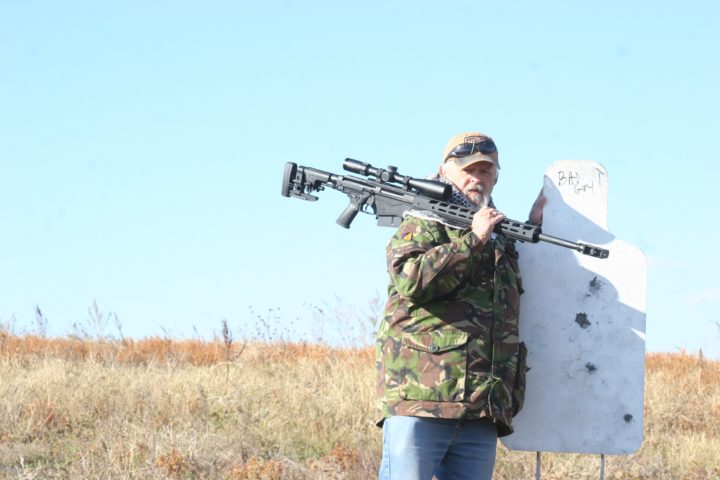 Burris on 338 Lapua 600 yard steel
A small yellow fur ball laying flat on a large rock 400 yards downrange can be hard to spot. The Burris did the deed. Three shots produced three terminated rock chucks of the western variety.
The reticle is in the first focal plane (FFP) allows increased cross-hair size with high magnification on and off the target.
The reticle has very good color transformation with no rainbow edges or primary viewing area disruptions. The lens gathers light in low light conditions and manages to bring light when shooting at angles against the sun.
Available at Amazon

The price of Burris Optics XTRvaries, so check the latest price at Amazon.
Check Latest Price